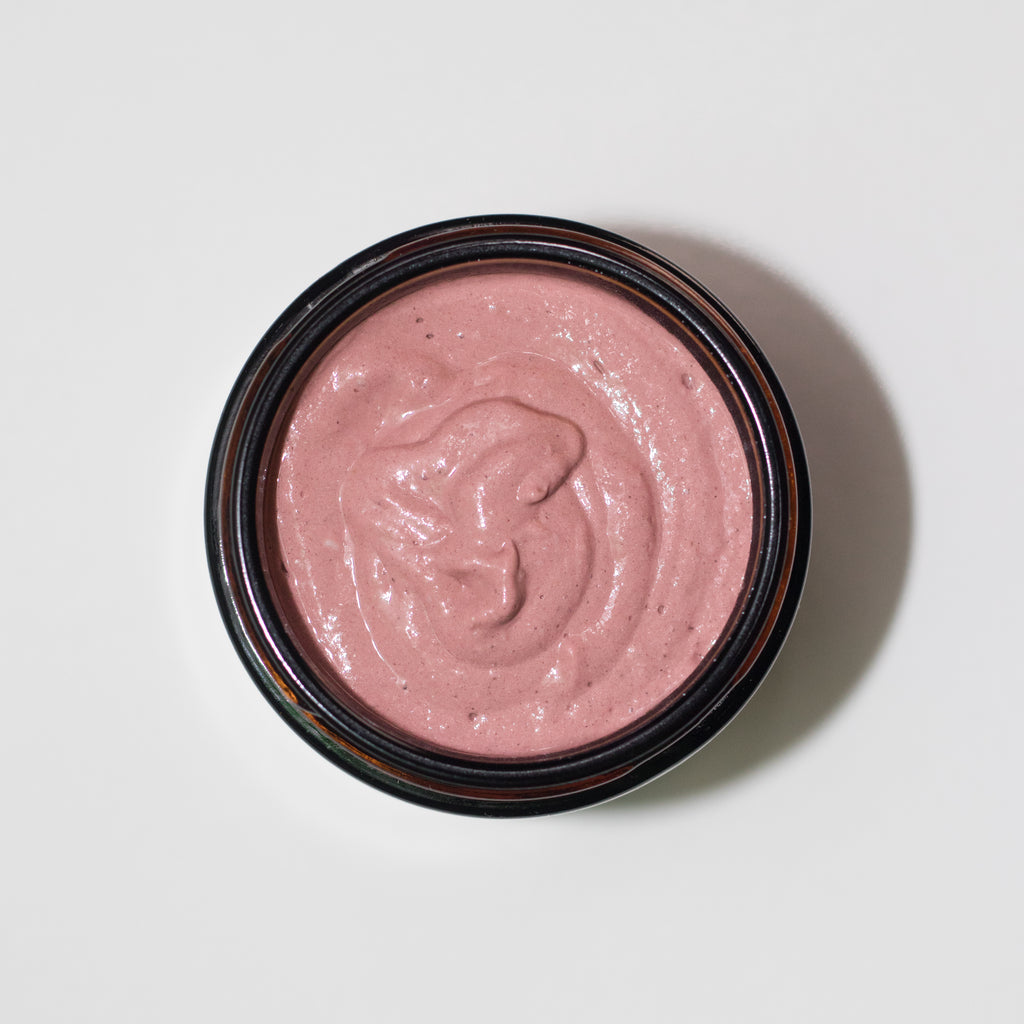 pink mask
Pink clays are known as the most gentle of all the clays, so it makes them suitable for all skin types (yes, even sensitive or mature skin). 
We used pink Australian clay in this mask. So what does it do? It provides a high boost of nutrients and minerals that our skin needs to function and retain moisture, draws out impurities and lightly exfoliates without removing the skin's natural oils. It also soothes and balances the skin, promoting healthy cell renewal. So, it's a gentle mask that will clean and refresh dull and tired skin, refining delicate lines, and improving its overall texture, which results in a youthful and glowing appearance (hello skin firmness! It's nice to see you again!). 
Also, we added lavender essential oil and rose water, so it smells amazing!! 
ingredients: pink Australian clay, kaolin clay, rosehip seed oil, avocado oil, rose water and lavender absolute essential oil.
 *THESE STATEMENTS HAVE NOT BEEN EVALUATED BY THE FOOD AND DRUG ADMINISTRATION. THIS PRODUCT IS NOT INTENDED TO DIAGNOSE, TREAT, CURE OR PREVENT ANY DISEASE. SUCH INFORMATION IS INTENDED AS AN EDUCATIONAL AID ONLY. IT IS NOT INTENDED AS MEDICAL ADVICE FOR INDIVIDUAL CONDITIONS OR TREATMENT. IT IS NOT A SUBSTITUTE FOR A MEDICAL ADVICE, NOR DOES IT REPLACE THE NEED FOR SERVICES PROVIDED BY MEDICAL PROFESSIONALS. WE RECOMMEND SPEAKING WITH YOUR DOCTOR OR PHARMACIST BEFORE CHANGING YOUR PERSONAL CARE REGIMEN. ONLY YOUR DOCTOR OR PHARMACIST CAN PROVIDE YOU WITH ADVICE ON WHAT IS SAFE AND EFFECTIVE FOR YOU.
---
Share this Product
---
More from this collection