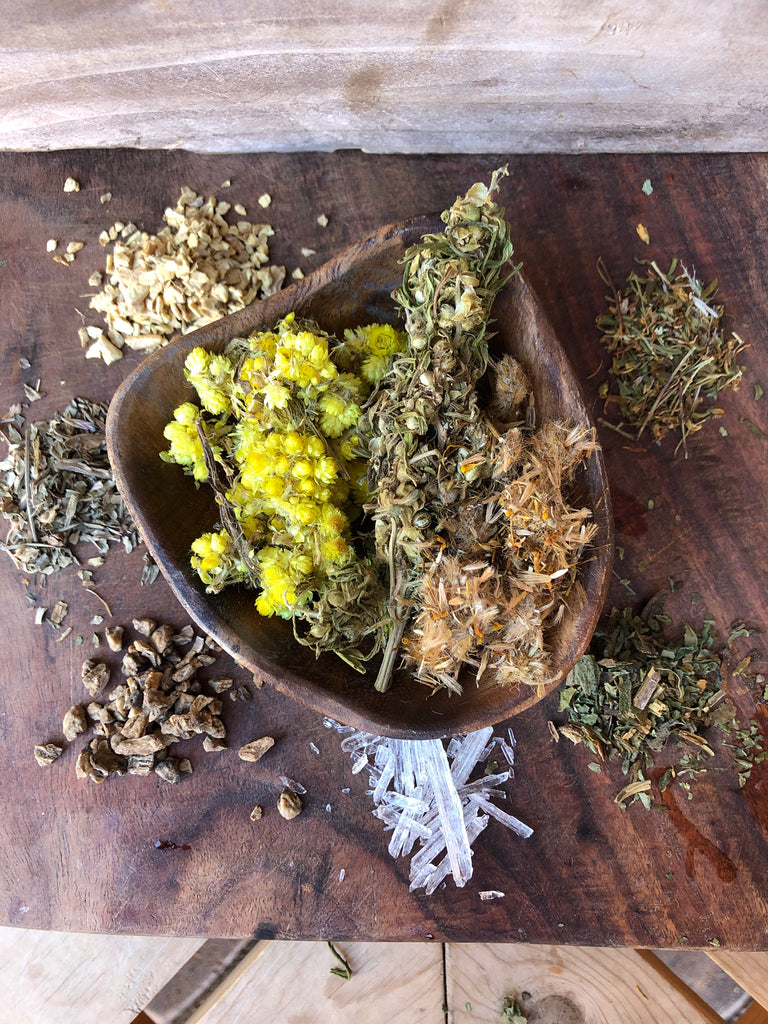 pain relieving salve
Our pain relieving salve is soothing and full of analgesic essential oils & anti-inflammatory herbs. It can help relieve muscle and joint pain, repair sprains and tendon injuries, reduce inflammation and stimulate blood circulation. A must have for anyone with a body!
We used some powerful herbs to infuse our oil: CBD-rich hemp buds and flowers, helichrysum flowers, St. John's wort, ginger root, arnica flowers, comfrey root and plaintain leaves. They are widely known for being anti-inflammatory, sedative, analgesic and antipasmodic.
And we decided to add more punch by including these amazing essential oils: juniper berry, frankincense, wintergreen, eucalyptus, peppermint, sandalwood, spruce, ginger root, and tansy. All of them well known for their ability to relieve joint pain, tension headaches, back pain, muscle pain, tension and spasms, nerve pain, PMS, and fibromyalgia pain, among many other ailments.
*THESE STATEMENTS HAVE NOT BEEN EVALUATED BY THE FOOD AND DRUG ADMINISTRATION. THIS PRODUCT IS NOT INTENDED TO DIAGNOSE, TREAT, CURE OR PREVENT ANY DISEASE. SUCH INFORMATION IS INTENDED AS AN EDUCATIONAL AID ONLY. IT IS NOT INTENDED AS MEDICAL ADVICE FOR INDIVIDUAL CONDITIONS OR TREATMENT. IT IS NOT A SUBSTITUTE FOR A MEDICAL ADVICE, NOR DOES IT REPLACE THE NEED FOR SERVICES PROVIDED BY MEDICAL PROFESSIONALS. WE RECOMMEND SPEAKING WITH YOUR DOCTOR OR PHARMACIST BEFORE CHANGING YOUR PERSONAL CARE REGIMEN. ONLY YOUR DOCTOR OR PHARMACIST CAN PROVIDE YOU WITH ADVICE ON WHAT IS SAFE AND EFFECTIVE FOR YOU.
---
Share this Product
---
More from this collection